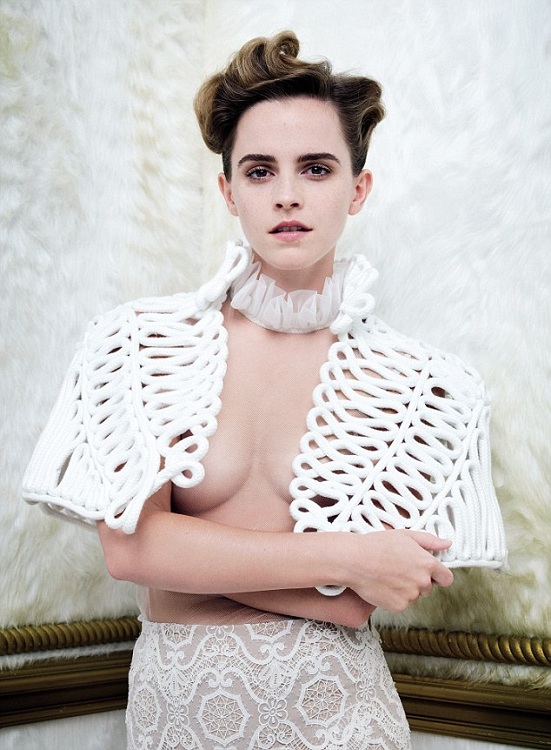 Emma Watson posed for a stunning shoot in the latest issue of Vanity Fair, in which she dazzled in an exquisite white gown with a fussy collar before going topless in the next image
Emma looked sensational for the latest shoot in which she scooped a prestigious cover role on the March issue of the publication – where she marred her punky hair do with a frothy white gown.
In her most daring shoot to date, she went topless from beneath an intricately caged bolero which left nothing to the imagination, in a truly high fashion style. She paired the modesty-protecting bolero with a high-waisted tight lace skirt which provided the perfect muted palette to the dramatic shoot.
Emma, who soared to fame in 2001 playing Hermione Granger in Harry Potter, gave an extremely insightful interview to accompany her stunning shoot as she delved into the wild world of Hollywood and where she stands as a former child star.
It seems Beauty And The Beast has been Emma's true coming-of-age film, as she attributes the blockbuster, a live action remake of the 1991 cartoon, as becoming 'a woman' – from Hermione to Belle.
She explained: 'When I finished (Beauty And The Beast), it kind of felt like I had made that transition into being a woman on-screen'.
The staunch feminist, who uses her celebrity as a platform to promote women's rights, proudly acknowledged that Belle is 'absolutely a Disney princess, but she's not a passive character—she's in charge of her own destiny.'
Source – Daily Mail