British journalist (Vogue's online fashion editor and Officer of the Order of the British Empire), Suzy Menkes, recently called out  American designer of Nepal decent, Prabal Gurung.
The respected journalist pointed out that the womenswear designer lacked originality after showing  a piece from his most recent collection that shared similarities with Dior's "We Should All Be Feminist" Tee Shirt.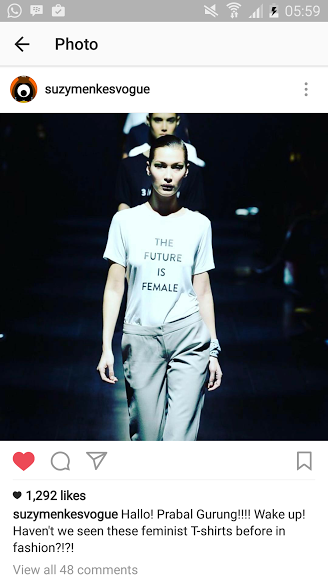 According to Suzy,
"Hallo! Prabal Gurung!!!!Wake Up! Haven't we seen these Feminist T-shirts before in Fashion?"
The feminist tee shirt which was part of Maria Grazia Chiuri's debut SS17 lineup for Dior was inspired by Nigerian award winning author Chimamanda Ngozi Adichie's TEDEx presentation, "We Should All Be Feminist".
What are your thoughts? Is Suzy ijustifed for calling out the designer or is this a case of every design house having a right to its own interpretation?