Dr Vivian Oputa is one of  the riveting forces in the medical skin care sector of Nigeria .
Based in Lagos – Nigeria, Dr Oputa is a trained  cosmetic dermatologist – with specialty in skincare beautifying and correcting skin imperfection as well as anti ageing processes . She is also a medical beauty columnist with  some popular dailies and glossy magazines alongside her blog – Skinquest .
A lover of Fashion, Beauty, Interior Design, Art and Horticulture, Dr Vivian Oputa is a rare find of Ageless Beauty , Brains and ever evolving High Fashion style. Dr Vivian as she is fondly called also runs a make up studio called –Pretty Powder a makeover stand you can find in every outlet of Studio 24 photography – where is  also a Director .
Getting Dr Vivian ready for the shoot was quite challenging to say the least  . Despite her numerous red carpet appearances, it surprised us that she hardly ever took  personal  pictures or indulges in long photo sessions , as she runs quite a busy schedule But after a few phone calls, she came through and everything was set in motion .
Come the day of the shoot …..Of course she did not fail to wow us in the Fashion department but what surprised us the most was her up to date spread of make up ( I swear she has EVERYTHING down to the brushes – images will be on our instagram page ) . Well laid out and complete in classic vanity boxes, this showed us a different side of our favourite skincare Dr.
Time for Camera , Light and Shooting, Dr Vivian struggled to pose (of course she is not a Model , she is a Dr ) she did try to strike a few poses but then the stylist ( Gbenga Ayo Dada of Artsmith ) suggested we hand her her stethoscope in her hand, it was like magic as her eyes lit up and she started striking multiple poses like a trained supermodel. We all had so much fun , we did not want the shoot to end (All moments captured will be shown on our social media handles )
In this brief interview( as we don't intend to bore you with already known details about Dr Oputa) she reveals some home truths about three things that she is quite passionate about   . Read On

 CHEMICAL SKIN LIGHTENING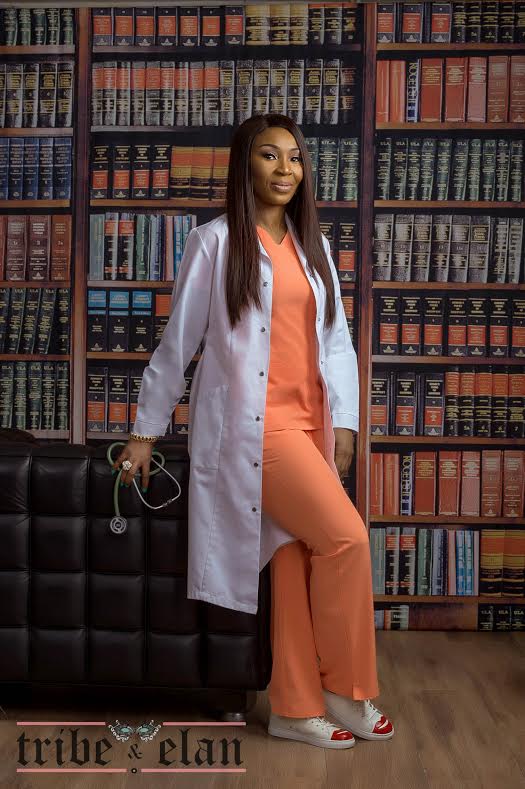 When you say chemical skin lightening , you mean Bleaching or Whitening . Lightening is not the word anymore as people are going to extremes to become actually white .
…."I am not here to judge anyone but if you choose to lighten your skin , do it in the margins of safety. Many people are practicing very unsafe procedures to be able to achieve the whiteness"……
The Long term effects of Lightening – When you inhibit your melanin( this is responsible for our skin colour ) you now also reduce your natural ability to protect your skin from harmful sun rays – UVA and UVB rays so as a result , you will age prematurely , wrinkle , one is also prone to skin cancer .
Another problem is that many if these lightening chemicals are absorbed into the blood stream , they will eventually damage the kidney, liver , bone marrow and could cause ones demise .
SKIN DAMAGE LIMITS
The process of damage ranges from a week to two weeks . This is because some of  these creams contain hair relaxers , peroxides , household bleach etc . So the users will definitely get burnt instantly . Lighten overnight are usually the deadliest as they contain high concentrations of steroids which are a thousand times more what we prescribe medically. So damage could start as soon as a day , 3 yrs , 5 years down the line .
Thinning of the skin as well is another down side as wounds don't get healed and even when such a person using these creams undergo surgery , they do not heal properly due to their skin condition  .
Harmful cream users will end up developing stretch marks from head to toe. This is quite abnormal and this is due to the fact that with continuous use of these creams, supporting structures of the skin are being destroyed .
……."Bleaching has always been a beauty practice for women of color . Its just different methods evolving -First it was Mercury  , then Steroids now Glutathione is the rave . It is an evolution which has become scary and alarming whereby you see Patients bring in their children to lighten their skin in other to give them better chances in life. This makes it more scary and unfortunate as I have had that experience myself .
MY AWARENESS DRIVE TO STOP THE MENACE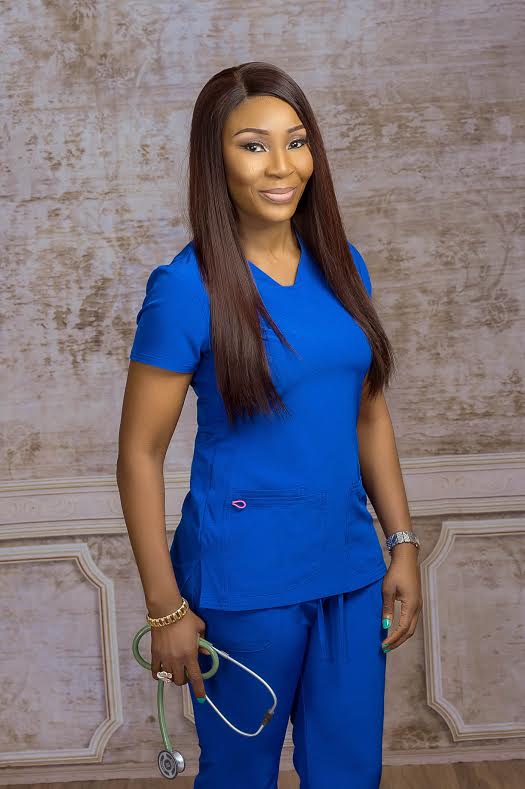 As part of my daily routine,  I see quite a number of damaged skin and I have numerous  consult sessions with them .
During such sessions, you find out that some of them would rather continue bleaching than become dark ( as they see being dark as a crime ) . They have made up their minds to stay that way . One my own ,  I write columns in weekly papers where I talk about these practices in other to reach out to those who I don't get to meet .  I also have a blog where I highlight  the pros , cons and pitfalls of this so called "Trending " skin regime  .  I consistently speak at various beauty and skincare seminars about these things as well where I speak to both women and men in other to guide them in making informed choices on their daily skin care routines  .
….."The World Health Organisation is deeply concerned about this problem . In Nigeria over 75% of our women use bleaching creams"….



MY FASHION STYLE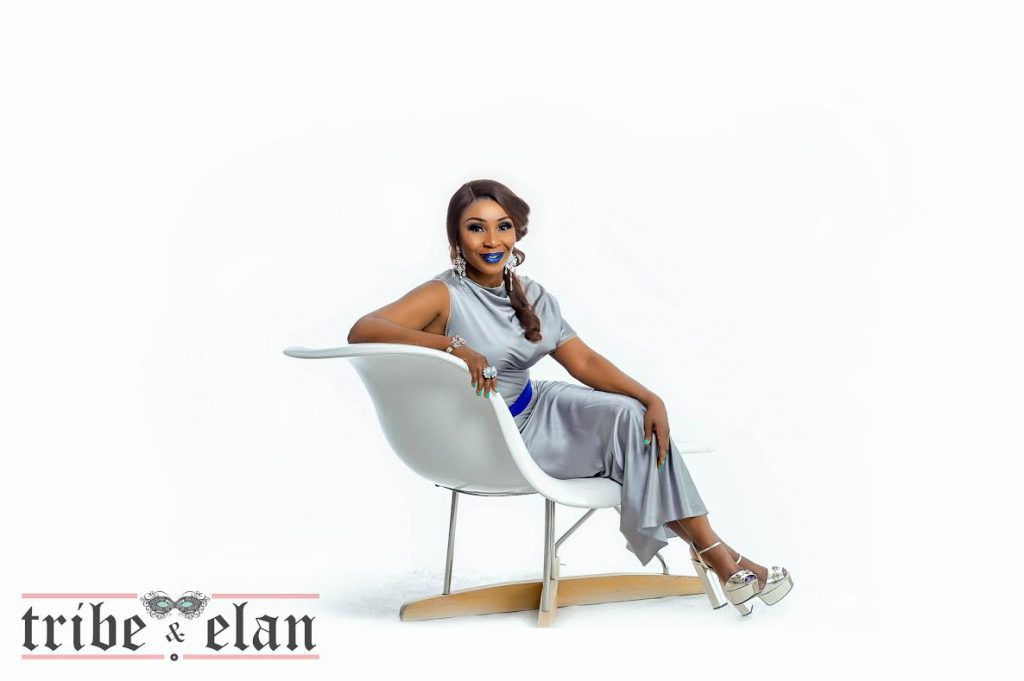 – I create in my mind what I want to look like and put things together . I come from a line of very stylish women- My late grand mum, my mother were both stylish even now,  my little girls are toeing the line as well.
……..I wear whatever makes me feel different . I don't conform to trends…..
– As a Dr there are no restriction as to how I dress . I love fashion and looking right at all times . My profession doesn't stop me .
MY LOVE LIFE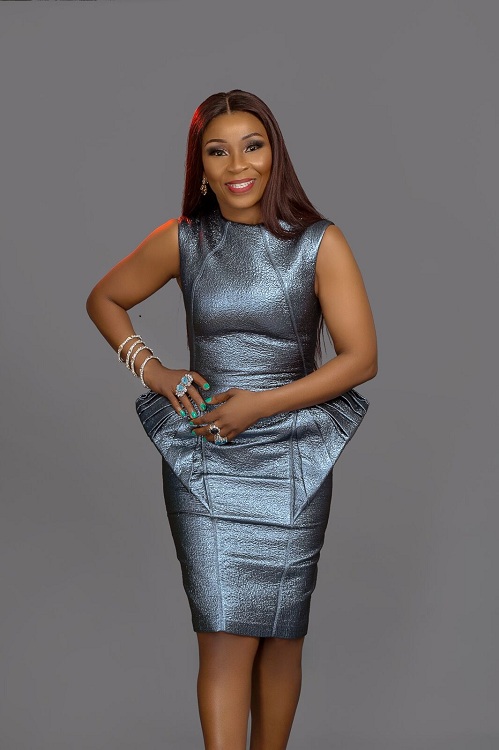 -As a mum, fashion lover  and medical Dr . My first love are my children . My schedule revolves around them . I schedule my plans accordingly and work on appointment .
– There is no special someone at the moment  but the is room for love . Mr Right hasn't just  found me (laughs)
……I am not complicated , I am very warm and open person  , I am not difficult to approach , I am very friendly and also quite chatty so I don't see why anyone should be intimidated…..
– I am down to earth , I level with everyone as it is all part of my profession as a Dr- I have to communicate with everyone .
……

I am fun loving , I like the good things of life( not that I am advertising myself) but its just who I am as a person .  I am easy going , I do not like stress, I do not have time for stress or like stress either……
Me time is when the kids have gone to bed and before they get up in the morning  – I watch TV , listen to music , exercise , meditate .