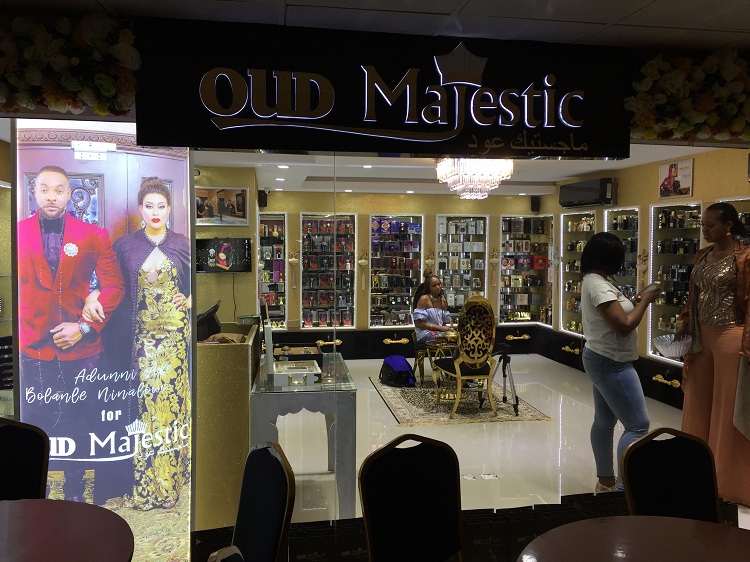 Another day another event happening in the City of Lagos. This time it was an Oud perfume store launch.
OUD Majestic store, launched their first mainland store at the Muritala Mohammed Local Airport, which became their third store in Lagos. The store was launched with 14 new Arabian fragrances, and the unveiling of their brand ambassadors, Actress Adunni Ade, and Actor Bolanle Ninolowo.
I didn't have to dress to slay, because the time of the event was 11am if you know what I mean, so my fits was casual and laid back. Plus it was an exclusive launch party so I didn't want to do too much.
I got into the airport about 10:55am to locate the store. May I point out that our airport is looking a lot better now compared to the way it use to be. That being said, the OUD Majestic showroom looks so magical and beautiful from afar, it is quite easy to spot, It has this Dubai lush feel. When I got into the store "Arab money by Busta Rhymes" legit started playing in my head lol. Damn! the store is Gorg….
The interiors are in gold with Arabic symbols, the ushers that welcomed us in we're in fancy Arabian flight stewards in their black and gold outfit.
Essenza store is two shops away from the OUD store, but I don't really think that's going to be a problem, because their products are not similar at all, we all know Essenza is all about the big names in the fragrance world, and that's not what OUD Majestic is about. As luxurious as the OUD store looks, you can actually get a bottle of perfume for as low as five thousand Naira. Plus OUD Majestic is not just about Arabian smell, they also have more than (100) different fragrances that ain't Arabic.
The event started on time, and we were introduced to the CEO Mrs Chika Acholonu , who later introduced us to the brand ambassadors Bolanle Ninolowo & Adunni Ade ( who arrived very late, but I forgive her because she's just too gorgeous, I can't stay mad at her) .After the introductions and plenty talks, it was finally Small chops and drink time(yay) …… which is quite important to me at most events , LOL
My work was done, while leaving I got me a lush  goody bag(my second favourite part of any gathering -Free things). #wink
Go follow me now on Instagram @fola_xo and stay glue to my insta story…….I ALWAYS KEEP IT JUICY